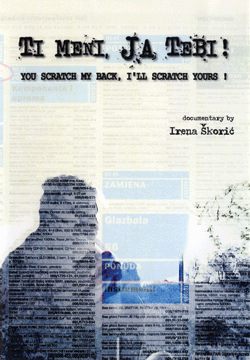 YOU SCRATCH MY BACK, I'LL SCRATCH YOURS!

Documentary

Director and screenwriter Irena Skoric
Cinematographer: Danijel Crnek, student
Editor: Mislav Muretic, student
Producer: Martin Birac, student

30 minutes, 2007, CROATIA, DV CAM
Production Company: Academy of Dramatic Art (ADU) in Zagreb (Croatia)
Short Content:
Have you ever asked yourself what lies behind classified ads in the newspapers?!  This film brings you life stories of 5 people and the answer to your question.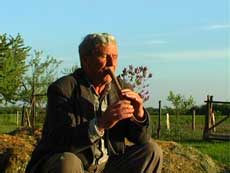 download hi-res jpg 234 KB

By finding people who is advertising for totally different things, we get to know the stories of five people living in former Yugoslavia. The one thing they have in common is that they want something they haven't got.
Festivals:
Zagrebdox, Zagreb, Croatia, 2008
Top 10 - audience award
Norwegian documentary film festival, Norway 2008
Festival of short film Mostar, BiH 2008 - 1st prize for the best student film
Cinemacity film festival, Novi Sad, Serbia 2008
Tabor film festival, Croatia, 2008
Luksuz film festival, Krsko, Slovenia, 2008 - The best documentary
Liburnia film festival, Icici, Croatia, 2008 - Audience Award
International Cinematographers' Film Festival "Manaki Brothers", Macedonija, 2008
Med film market Girona Spain
Fibula, revija dokumentarnog filma, Sisak, Croatia
Mikkro International Short Film Festival, Murska Sobota, Slovenia
ETHNOCINECA, Austria, 2009