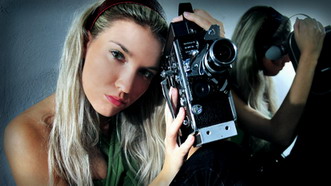 download hi res image jpg 429 KB

Interview with Irena Skoric, director of 7SEX7
Interview released by c7nema.net
1.How did you come up with the idea of makin a multi-story erotic film?
Two years ago I started writing my book - "Eros on film - two on the table" reffering to the film "The Postman Always Rings Twice" by Bob Rafelson. One sunny day the idea of erotic drama of my own just stroke me.
2. You've done some sex-themed shorts and now 7 SEX 7. What made you want to dedicate yourself to erotic cinema?
Yes, 3 years ago I filmed erotic drama - short called "March 9th", which also participated at Fest festival, and won a lot of awards, among which are FEDEORA prize at Pula film festival, Best short at Euroshorts, Warsay, 1st award at WorldFest, Houston, U.S.A., Best short at Cinema City, Serbia etc.
I always want to wide my horizons towards new genres.
3. What filmmakers influenced you the most?
Really, I can't name just couple of them, European cinematography is one I prefer, and French New Wave influenced me the most.
4. You're attending FEST and its Pitching forum for next project. What new film are you presenting here?
I am presenting my new film project called "My Dad". My Dad is a romantic comedy in a "transition" way. At a time of warped social values, when criminals are the protagonists of social events and become media stars, it is quite reasonable for a hard up teacher to daydream about a contract killer as the sort of romantic hero that in a more innocent time was called a "prince on a white horse". Croatian cinematography is well -known for its social and war dramas, and I find it important for cinematography to progress in new genres especially for young population.
Screenplay My Dad got project development funding from Croatian Audiovisual Centre in spring 2011.
5. How was the casting process for 7 SEX 7?

Well, I wanted to find the crew who can handle filming in one frame and numerous takes. All the actors in the film are proffesional actors and a lot of them currently work in theatre or soap-operas. The actors in this film have not been arranged for the camera, the camera rather tries to follow the events as they come. Its free movement and natural imperfection of the composition add to the erotic suspense. The free playful engagement with something that reminds of cinéma vérité and Dogma arises from the inner structure of the film's stories and relations.
6. What's your dream project?
My dream project is to film "My Dad" and not in Croatian production, but in French production, with French crew and on French language. Paris or Avignon would be the set.
7. How have people reacted to 7 SEX 7?
Great, the national premiere was at Pula film festival in Arena, and there is a maximum of 10000 viewers. People enjoy the movie, and realize that everything is not that pink like somebody can conclude from the trailer, but there are some serious problems in communication among all of the characters.
8. What do you know of FEST and expect of 7 SEX 7's portuguese premiere?
I think I participated twice with my shorts in official selection, "Farewell" and "March 9th". I like Portugal, and I am very happy to finally visit your festival and I am eager to see the reaction of international audience.
http://fest.pt/?p=3251&lang=en

-------------------------------------

in your pocket
Irena Škorić is a young film director and writer whose most recent film is based on Zagreb's tram line no. 13, which follows an unlikely zigzag route through the city and for years has shared the fate of its citizens. The film was selected from among 65 international titles competing for the audience's award at the ZagrebDox Film Festival. We asked Irena to share her thoughts with us about Zagreb.
ZIYP: What, in your opinion, are Zagreb's pluses and minuses?
IŠ: Among the minuses in the city centre are traffic jams and surly and impatient people. On the plus side, I see Zagreb as a city you can love all your life despite its faults. I most like to see Zagreb through the lens of a film camera.
ZIYP: What about the Croatian film industry, what are its positive and negative sides?
IŠ: In Croatia the positive side is the talent and dedication of the film directors. The bad side is the tendency to suffocate talented people and celebrate mediocrity.
ZIYP: What is your favourite café in Zagreb, and which is your favourite part of town?
IŠ: I like Blato in Masarykova, and have fond memories of Bednjanska ulica from my childhood. I love to take a walk in Zrinjevac on Sundays when the city is quiet.
ZIYP: Do you have a favourite place for enjoying art?
IŠ: Every cinema or hall where my films are being screened!
ZIYP: What is the most bizarre experience you have ever had in a tram?
IŠ: Making my film in the old "Genscher", with the tram in the main role. ("Genscher" is the nickname given to the trams which were donated to Zagreb in 1995 by the city of Mannheim, the home town of Hans Dietrich Genscher, former German Vice Chancellor).